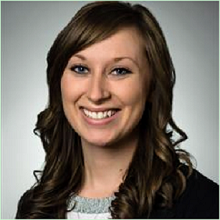 Kayla Tomlinson joined the firm in 2016. She has a Bachelor's of Arts degree in Accounting, Magna Cum Laude from Fort Lewis College. Originally from Ignacio, CO, Kayla spent time after graduation working for a regional CPA firm in Colorado Springs.
Kayla enjoys volunteering and while in Colorado Springs, leant her free time to the Ronald McDonald House and the Boys and Girls Club. Currently, she is volunteering for the La Plata County Humane Society and we are excited to see where else she will lend her volunteer capabilities once she gets settled here in Durango.
After work, Kayla and her husband enjoy hiking, camping, grilling, golfing, scuba diving and anything outdoors.
You may contact Kayla via email at ktomlinson@tafoyabarrett.com